By Michael Hingson with Susy Flory
(Nonfiction)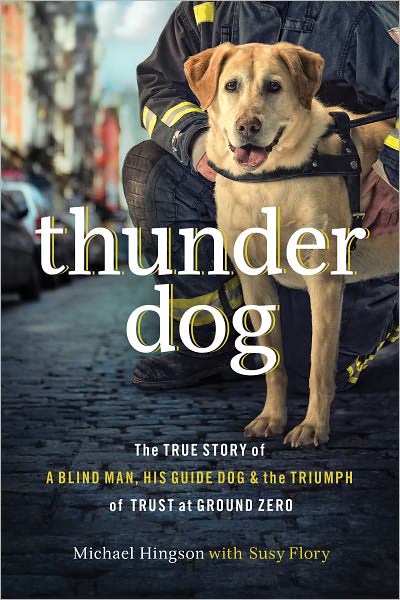 On September 11, 2001, Michael and his seeing eye dog, Roselle, walked down 78 flights of stairs in the North Tower of the World Trade Center and survived. The story of this day is told throughout the book, interspersed with the story of the author's life.
As the author states, "The real story, in my mind, isn't how I got out of the World Trade Center…it's how I got there in the first place."

(p. xiv.)
As I began this book, I was impatient to hear the story of September 11th and was a bit irritated with the interruptions of the story of the author's life; however, the more I read, the more I appreciated this way of telling. The story of how Michael seized life shows the attitude, education and faith that provided a means to cope with this horrific challenge. One cannot be told without the other. One cannot be told without the other.
Michael never saw himself as disabled, just different.

He rode his bicycle around the neighborhood, excelled at math and competed for a job with an office in the North Tower. Even as a youth, his audacity led to his receiving his first seeing eye two years below the minimum age to enter the program.
This book holds not only the story of one man and his dog on one day; it is the story of a blind community, the story of Guide Dogs for the Blind, a story of technology and a story of friendships and love. In these stories we learn of courage, teamwork, patience and faith.
This book is published by a faith based company. The first mention of Michael's faith comes on page 120; however, God's hand is evident in every page. Even though he made it out, Michael does not claim to know why he survived and others did not. He just makes the most of each day.
P.S. Check out the wonderful appendixes! Great stuff!
* Disclosure of Material Connection: I received this book free from the publisher through the BookSneeze®.com <
http://BookSneeze®.com
> book review bloggers program. I was not required to write a positive review. The opinions I have expressed are my own. I am disclosing this in accordance with the Federal Trade Commission's 16 CFR, Part 255 <
http://www.access.gpo.gov/nara/cfr/waisidx_03/16cfr255_03.html
> : "Guides Concerning the Use of Endorsements and Testimonials in Advertising.